Arlington Toyota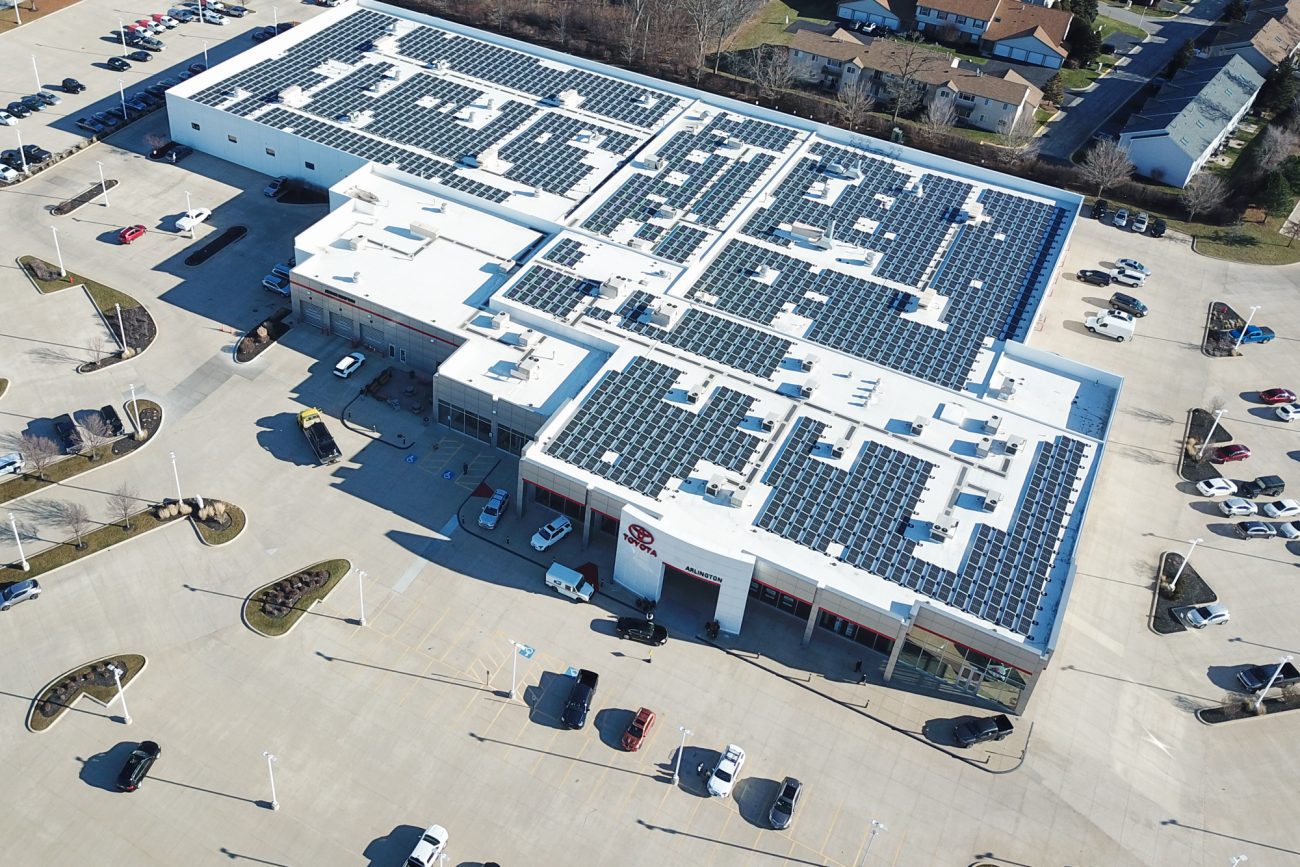 In late 2020, Solar One reached out to Gary Vicari, President at Arlington Toyota, to share the amazing opportunities solar creates. While the initial cash proposal had a very fast Return-On-Investment, Gary shared his concern about spending over $1 million on a non-core business expense. With his feedback, Solar One innovated a new financial model that removes the upfront expense associated with traditional cash purchase models. This model allows Arlington Toyota to maintain complete ownership and receive all financial incentives without resorting to a Lease or another zero out-of-pocket program commonly associated with Third-Party ownership options.
When we shared this new model with Gary, he appreciated that we took the time to listen to his needs and loved how well it fit into his operations. In 2021, Solar One began construction on the 641.58 kW solar asset and commissioned the system in August 2021. During our post-project interview in December 2021, Gary said:
"…this has been a tremendous, tremendous asset, both to the business, to our image, and to our electric bill. Our electric bill is now 50% reduced from what it used to be before we put the solar panels on."
He also said:
"I would definitely work with Solar One again. Because Solar One had the foresight to go through with a nonconventional arrangement, it made it clear to me that there was something different about Solar One than there would be with other companies. I think that it would be a no-brainer, and it was for us a no-brainer once we learned that that arrangement was possible."
You can catch a shortened version of Arlington Toyota's interview below. Stay tuned for the full-length interview coming soon.
The Solar One team was pleased to install the 641.58 kW solar system for Arlington Toyota. The project utilized 370-Watt 72-cell Hyundai solar modules, Unirac's Ecofoot2+ ballasted mounting system, and five SolarEdge 100 kW AC inverters.
For more information on this innovative financial model and its benefits, please visit our Ownership page.
Illinois Solar Market
Illinois — a state now at the top of the totem pole in regards to renewable energy incentives. Charges within Illinois's larger utilities like ComEd and Ameren aren't as steep as California or Long Island New York, but the economic benefits to installing solar are tremendous.
The major financial factors that make solar a no-brainer in Illinois:
• Business Investment Tax Credit: This is the main catalyst for solar throughout the U.S. Businesses can receive 26% of the solar system's total cost as a tax credit toward their company's tax liability.
• Bonus Depreciation: The solar system qualifies for 100% accelerated depreciation in Year 1, which is the process of deducting the depreciable basis in order to recover capital costs.
• Smart Inverter Rebate: Illinois-specific. ComEd and Ameren offer this financial incentive to installations in their service territories which provides a price/watt rebate upon system completion.
• Solar Renewable Energy Certificates (SRECs): Illinois-specific. The Illinois Power Agency (IPA) oversees the state's SREC program which allows residential and commercial solar owners to be compensated for producing solar energy over long periods of time.
• Net Metering: Illinois-specific. Illinois allows you to receive credit for any excess solar generation your system produces
See our Frequently Asked Questions page for more info.